Howdy yall,
As
@Rich Trujillo
posted some pics of a Pred "for a friend"

for valuation, I remembered I had one on the top shelf of my (messy) man-shed... So I pulled it out of the 8th scale rim it sits on and I snapped a few pics just for the heck of it... and then I started marveling at how awesome this design is, despite all its flaws!
This one has a funny story... I had always wanted a Pred with the CWF tub, meaning an original XT or a 95 as TTT switched to plastic tubs as of 96.
It was bought five or six years ago from an admin of a french vintage RC forum, not cheap (no Pred ever was

) but not outrageously priced either. The body reminded me of something but I quite couldn't exactly recall why. I knew it shared some cosmetic cues from Moore's car body, while not being exactly the same design (and car). Maybe someone will be better than me at finding a pic of Moore's car...
But anyway, here's mine - the dust is vintage, too

This is the 6x1 layout before they switched to saddle pack:
Cooling has always been an issue with the Pred - at some point, one owner cut some ducts in the body and added some fine grilles to protect the inside:
And the fantastic CWF tub - maybe subcontracted by Fyberlite at the time, who knows?
But that paint scheme kept bugging me... then I found out: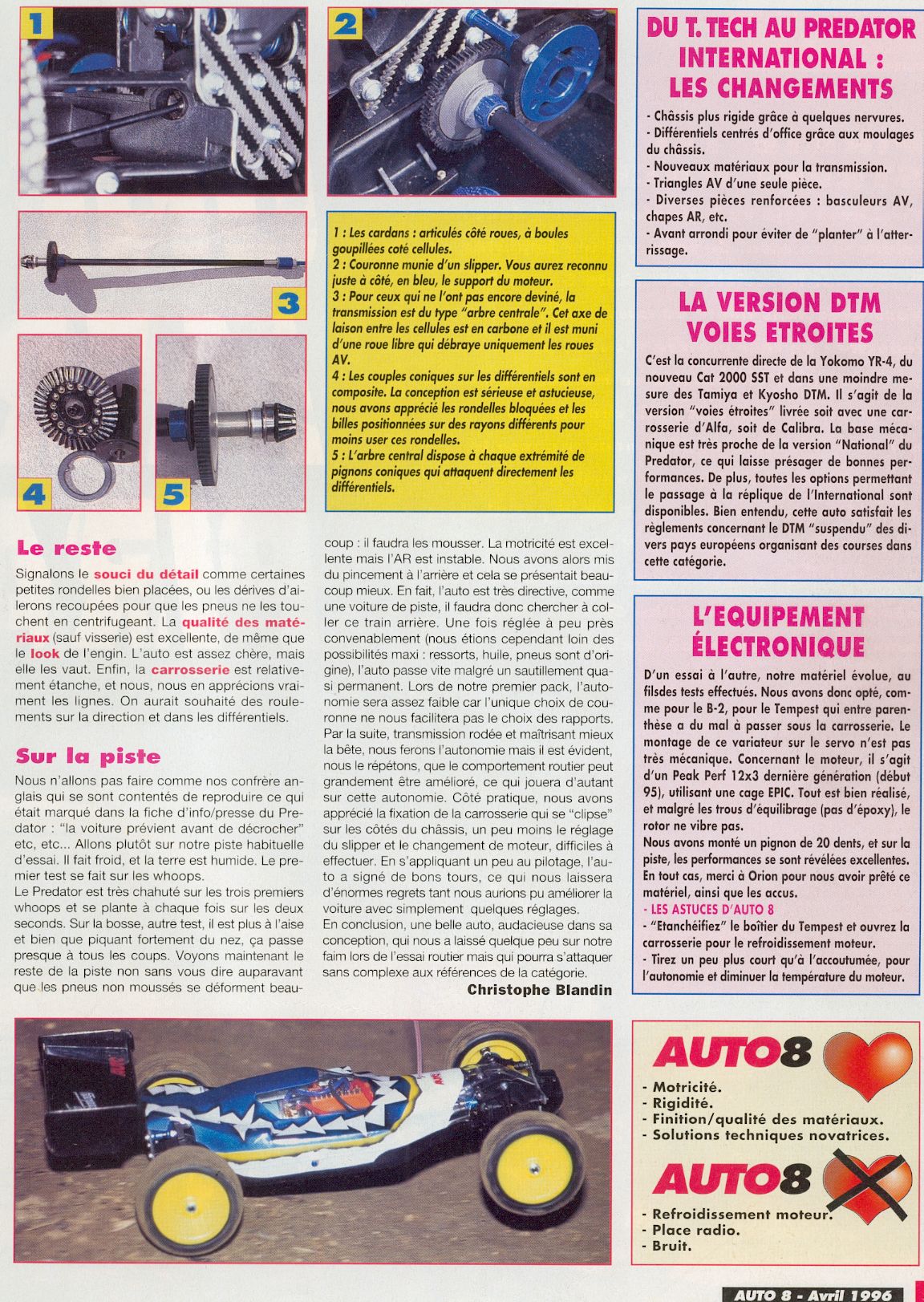 This was the press car that I read about in the french RC magazines when the car was released! (scan courtesy of PetitRC) So I basically had a press car... but then I took it to my good RC byddy Vincent, who's been in RC since the early 90's, and he instantly said "I know this car! this was my brother's... the fine thermoforming (sarcasm font) around the shocks is his unmistakeable personal touch"

He texted him a few pics, and yes, that was his brother Xavier's car that I had inherited from. The brothers are from the same area as the magazine car tester... So it all makes sense, Xavier had purchased it from the Auto8 crew. And like prestigious full-scale collector's cars, I know the full history of my ride. isn't that cool?
To top it off:
(pic courtesy of "The Dodge" @Tamiyaclub) - not quite the exact same one but pretty darn close... someone got inspired by the box art!
One day I will tear this car apart, clean it, and rebuild it I swear