I recently got back into RC again, after almost 20 years of being away... but all my gear was long gone: liquidated in a garage sale when I went away to school. My first buy was a used Stampede VXL (since used to own a Traxxas Sledgehammer, and it seemed to be the modern equivalent) but I kept my eyes on Kijiji and local forums: seeing what else I could pick up.
A guy was cleaning out his garage, and had posted some pics of old RC cars he owned on Kijiji. There were some odds-and-ends, like
old chargers and batteries
, the traditional tackle box full of parts, a
way-less-then-RTR Hornet
, a
Bullhead/Clod
... and this... a car that he couldn't remember the model of: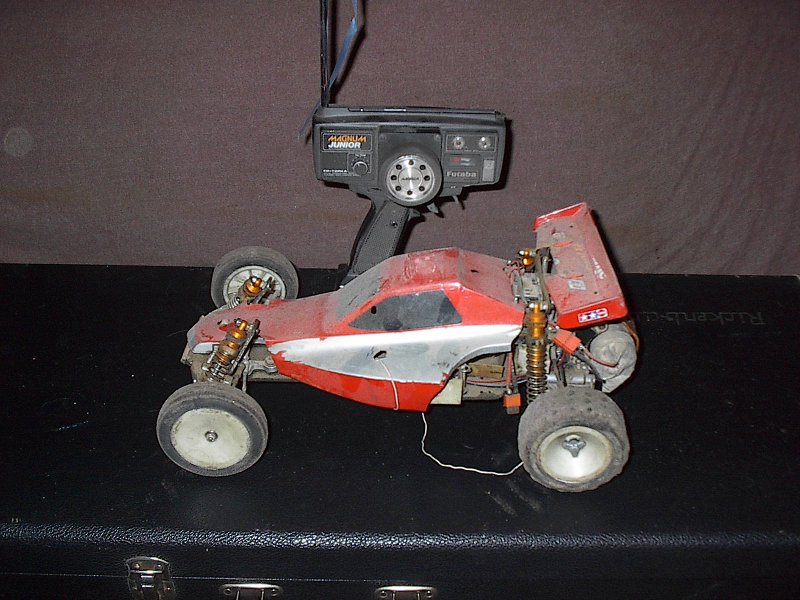 Another pic with the cover off...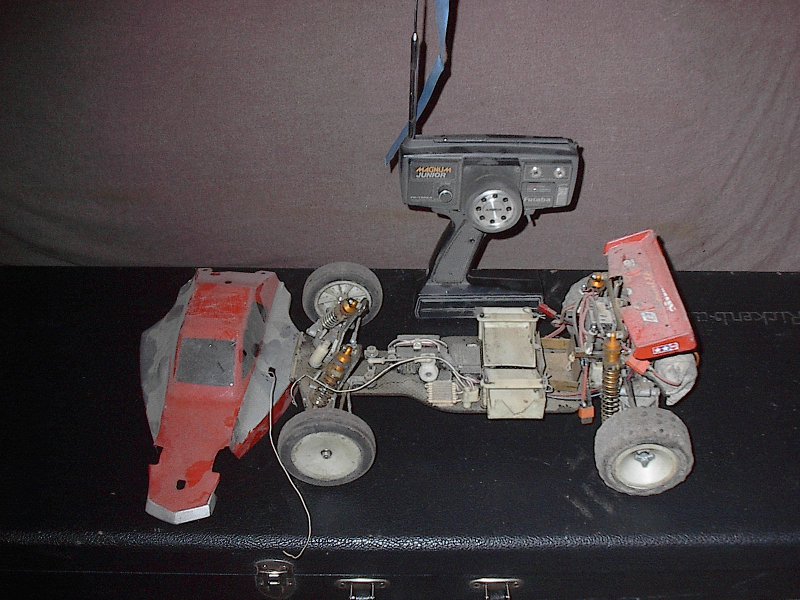 ...plus Google, lead me to this forum, and the
fantastic 25-Years thread
. A RC10 Graphite! When I used to do RC I could never afford such a car, but I remembered RC10's and JRX-2's used to be the race cars to have. It must be mine!
He was asking for $200 since the RC10 and Clod were RTR (in theory), but I ended up getting everything for $100. Back at home it took a week of evenings after work to get all the gunk off all the cars. The RC10 was the worst: a thin sheen of grease over the gearcase and shocks and 15 years of cement dust and sawdust caked on everything. And the rims, shock towers, and all suspension arms had been painted with silver paint that was now flaking off. I didn't know how to remove it easily... so I scraped away at it gently with a dull hobby knife to get 99% of it off. The results:
The car ran when fed a fresh 6-cell. Futaba radio and JR "NEA-950B" ESC fed a Joel "Magic" Johnson motor that had seen better days. There were 2 extra sets of tires: some road slicks and what appeared to be an unused set of spikes (seen in pic above). I've started to order some parts to replace the worst bits... but this will be a runner, not a shelf queen: new tires + modern electrics then replace whatever else breaks

. I cleaned the shocks and filled them with fresh oil, and totally disassembed the rest of the car... except the gearcase. I know I should, but it seems to be spinning freely, and I'm afraid what I may find

New pics coming once I empty the camera...