Ever since I was a kid, I was underwhelmed with the top end speed of my Turbo Raider. I saved my money and ditched the LeMans 05 stock engine after a while in favor of a Revtech 15x4 turn motor and it was better but still not great. The car accelerated well but quickly tapered off as it is so under geared (10.8:1).
Recently, I have been running the Raider and while on LIPO it is a bit quicker, it still behaves the same way. I spent about 4 hours over the past 2 nights trying to fit a bigger pinion in there. Over the past few months off and on, I had searched everywhere on the internet and could not find anyone that had fitted a bigger than 15 tooth pinion. I couldn't figure out why there was a limit of a 15 tooth (the manual states 14 is stock and 15 is the only option) and why couldn't I go even bigger to a 17 tooth or beyond (I had bought the 17 tooth pinion in the 80s that I never could figure out how to get into my Raider). In the manual for my Turbo Raider, there is a slot for one of the motor mounts that allows for some adjustment (slot F).... but not much. I guess in theory you can get a 15 tooth pinion in there with the stock 36/21 idler gear but it looked TIGHT. I tried to get the 17 tooth pinion in there but it just was not happening not matter what combination of holes I used (and the motor plate gets in your way on the backside, by design, limiting the range you can move the motor). Man they did not make this a user friendly setup!!!


I gave up as I needed to get to sleep.
The next day I remembered I had an idler gear in my box of old parts that might have been for my Raider (it looked really small but I knew it had to be for my Raider or Big Brute). It was s (32/22 tooth) and while by itself it would make the gearing taller, I figured that might just also give me the space to get the 17 tooth pinion in there (as with the stock 14 tooth pinion and the 32 tooth idler the gearing was still shorter that I wanted at 9.6:1). Funny, thinking back on it now when I was building the Raider with my dad I remembered the 32 tooth idler gear but it wasn't mentioned in the manual and we were not sure what to make of it so we used the 36. I don't know why they didn't include the info from the Rocky's manual (the last picture in this post is the Turbo Rocky manual and the one above that is from the Raider....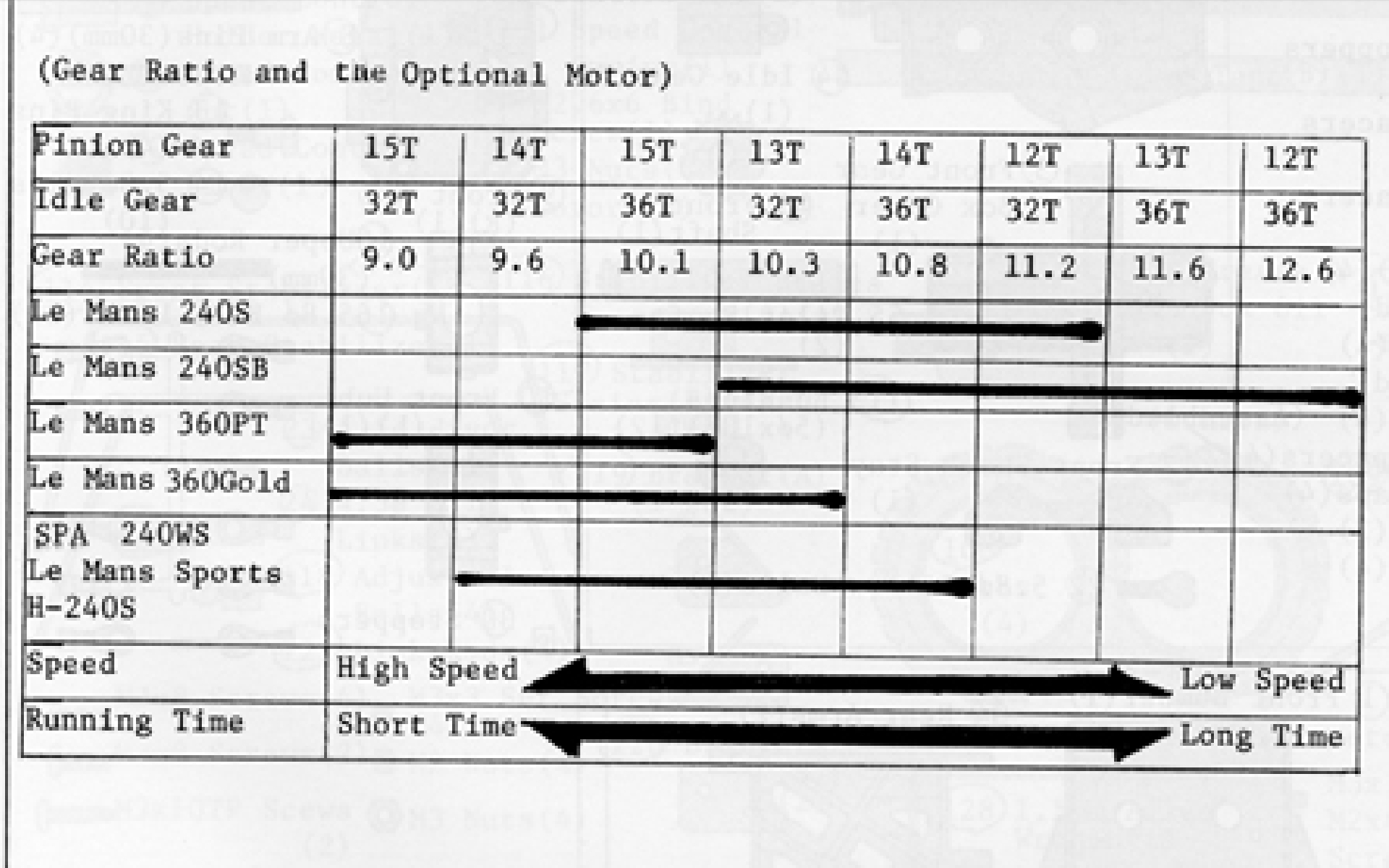 Even with the 15 tooth (which the only one I have is in my Big Brute and I do not want to mess with that gearbox after I finally managed to get it together without binding issues) it would have been 9.0:1. I wanted to go even taller. So, using the Turbo Rocky manual, I noted there were extra motor mount combinations listed and maybe there was still hope. I tried using hole C (well I really tried all of the combinations) but I still couldn't get the play I needed to fit the 17 tooth. So.... I connected the slot and the hole at the top (I used a knife and cut it so F and A are continuous) and used hole C but I still couldn't get the play I needed because of the stupid motor plate with the weird shape. Ready for bed and wanting to be done.... I took some snips, cut the plate so it was a circle and filed it down use the concrete floor of my garage

. It actually worked really well as the metal was so soft. Once I did that, it fit! I think I could use an even bigger pinion but I think this might be a good setup for me with a ratio of 7.9:1 based on my calculations (I used it on pavement).
One note, if you use a larger than 15T pinion you cannot put the motor in the car with the pinion attached (you have to install the motor and then install the pinion from the top of the gearbox) as the hole in the motor plate is too small.
I couldn't find anyone that has done this before on the internet so hopefully this is helpful to some folks and they can cut my 4 hours of time invested (and many hours researching things) into an hour or less! It seems like Kyosho really went out of their way to limit your gearing options in the Raider/Rocky.

Hoping I don't end up cooking my Futaba 112B speed controller.

Here is a video of the install:
https://www.youtube.com/watch?v=5iCRBhjmmfI
And two other videos from the night before where I was trying to figure this all out:
https://www.youtube.com/watch?v=U-Z8y_6pPx4&t=74s
https://www.youtube.com/watch?v=eRlFkpHTs6I