[Long story warning]
Lately I've developed (re-developed) a bit of a stadium truck fetish. My buddy and I had a pair of stadium trucks briefly when we were in college. I had a Losi LXT that I bought used with my high school graduation money, and not long after he bought a real nice graphite T3. I only kept mine a couple years and wound up selling it back to the person I bought it from, but he held on to his. Last year we got together and he pulled it out to show me how much more powerful it was with these new LiPo batteries, and I was blown away. I was addicted, and had to get something. I bought a used 4x4 Stampede for my son (4 yrs old at the time) and I to use. After he learned how to control it, I bought him a truck of his own. I wound up getting a 1st gen ECX Circuit, and that pretty much rekindled my stadium truck interests. Not long after, my dad wanted his own, so I got him a Ruckus, and the 3 of us play every weekend. Lately my dad and I have started setting up a course and racing, and I wanted 2 similar vehicles, so I bought and built a Durango DEST210R, and got a couple identical ESCs and 17.5 turn motors so we can set up the Circuit and the Durango to be competitive.
After I built the Durango, I started wanting to do another kit, and started looking at the new Scorpion kit, which somehow led to me seeing the RC10 re-re and a lot of commentary about how that chassis is modern enough to still be a good, competitive car, unlike the Scorpion. That landed me at this site, which quickly turned my focus back to the stadium trucks. I quickly developed a bit of a fetish for the T2, and started stalking them on Ebay. In the meantime, I also started liking the 10T, and wound up overpaying for a basket case 7001 on Ebay. I've decided to restore this one back to stock, since it's an original 7001, and included the box and manuals. One big thing that I was unaware of at the time, was how expensive Stealth transmissions are, so the fact that this one was missing was a big oversight on my part. Between that and my oversight on the chassis holes, I can't really say I wound up getting a good deal on this, but at least I have something to start with.
Shortly after, I saw the 2nd 10T on ebay, and saw that it had a transmission, a solid chassis, and some neat upgrade parts too, like the RPM suspension arms, so I figured this would be a good companion truck. I can steal the stealth trans from it, and then retro a newer trans into this one. I had hoped to steal the chassis from it too, but since it's not a "B" stamp, I may just keep it with this truck. It would be a shame to re-anodize (or powdercoat) an original blue chassis black anyway.
Right after I bought the 2nd 10T, wouldn't you know it that a real nice T2 showed up. I couldn't resist, since this is what I wanted all along anyway, and bought that too, so now I've got 3 of these foolish things to do! Looks like this should keep me well occupied over the winter.
[/Long Story Warning]
So... on with the pics.
Unfortunately, I didn't notice that some of the chassis holes were drilled out larger than the original size, but this chassis should clean up good enough to suffice until I can find another one.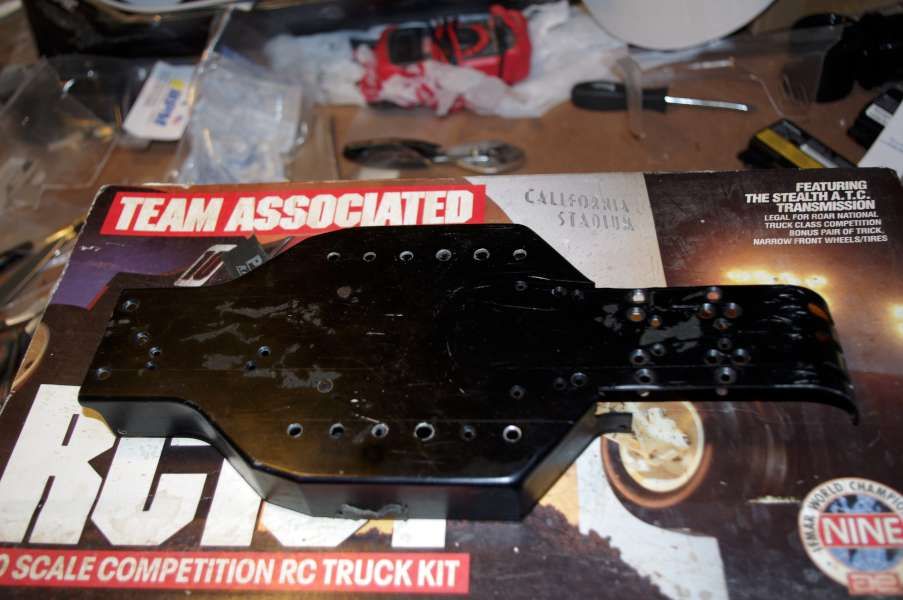 The front and rear bulkheads look pretty good overall, and the shocks look great. I think all of these will clean up real nice: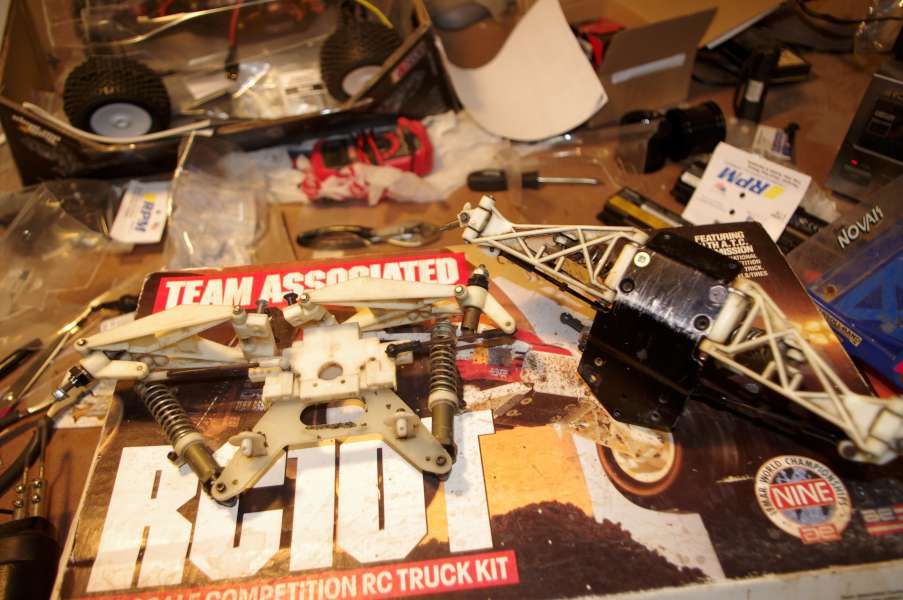 The one non-stock part that it came with is these aluminum bell cranks. Anybody know what kind they are? I'll wind up putting these on my WOIN 10T:
The box and manual are both torn, but I think it's neat that they're both still somewhat presentable: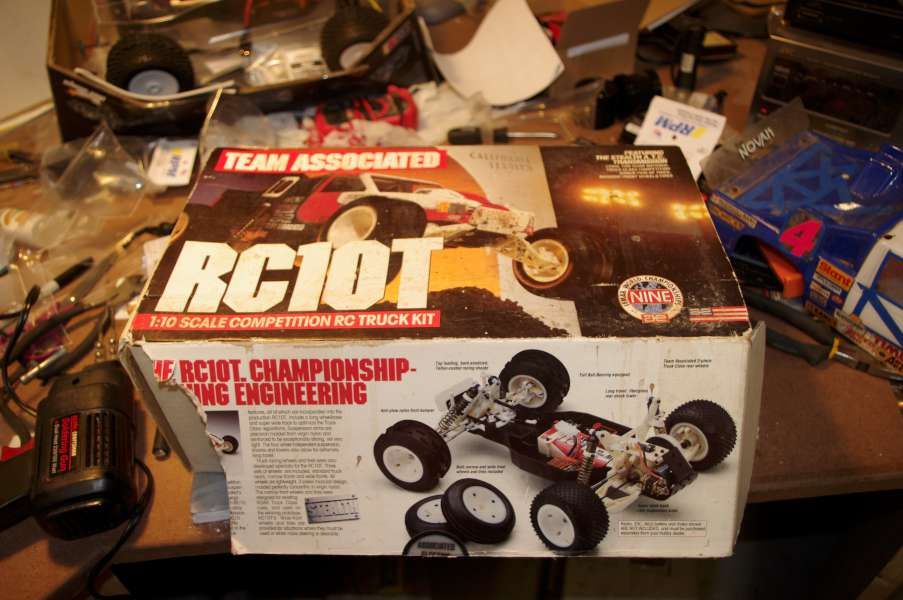 The body is in pretty good shape, though I'm not overly impressed with the quality of the paint job: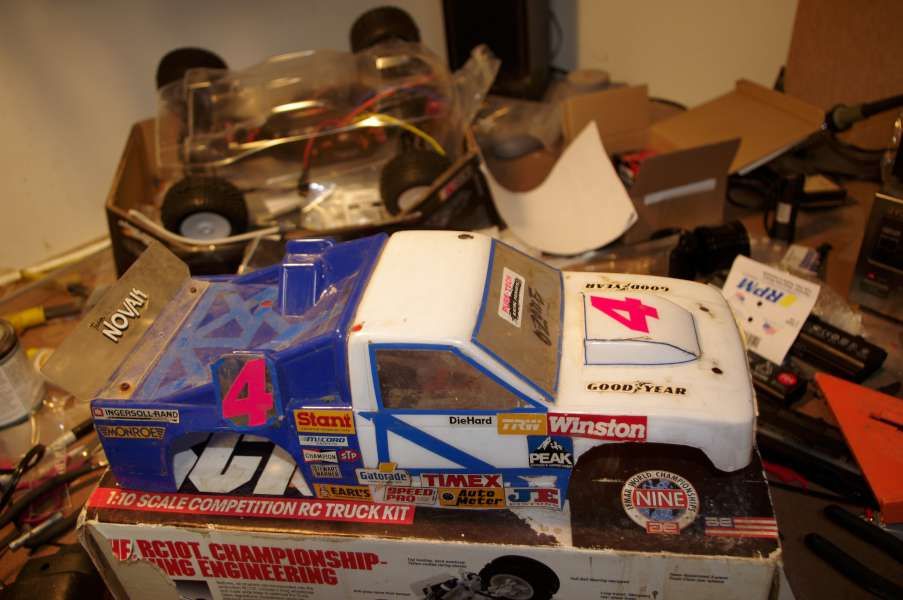 For now I'm going to rob some of the necessary parts from the other trucks (wheels, tires, antenna mount, stealth trans & trans brace, etc), get the remaining missing parts, and put it together. I'll stick with period correct electronics, and get a new body for it. Then over time, I'll replace some of the non correct parts, and get better parts to replace those that aren't in perfect shape.
On to the 2nd 10T, which is going to be a WOIN build:
This truck came with a decently painted body, but it's got some holes in the back, plus it doesn't even seem to fit this truck, so I'm not sure what it was originally used on: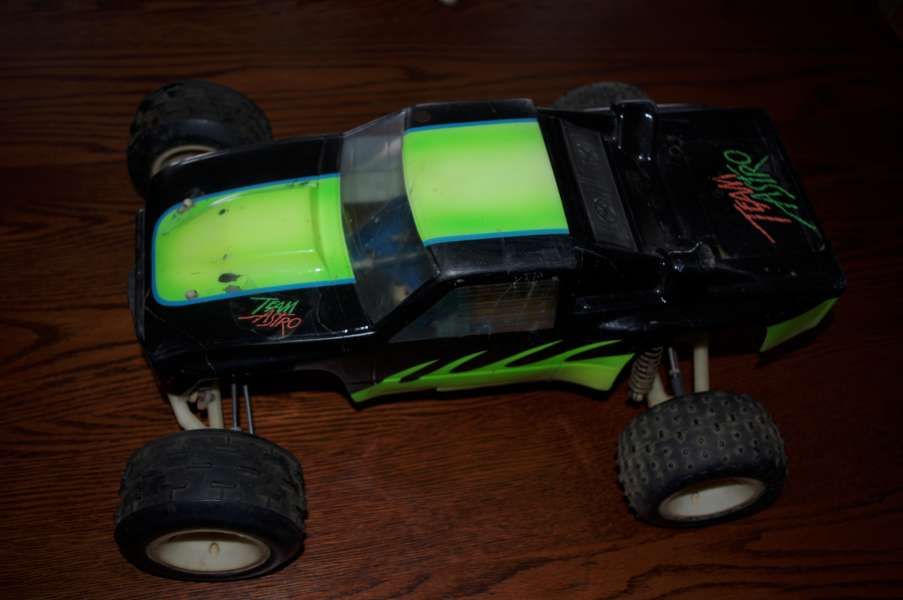 this truck came with an original blue chassis, Futaba servo, some receiver and some decent (but very, very hard) tires. Lots of glue on the wheels and tires too.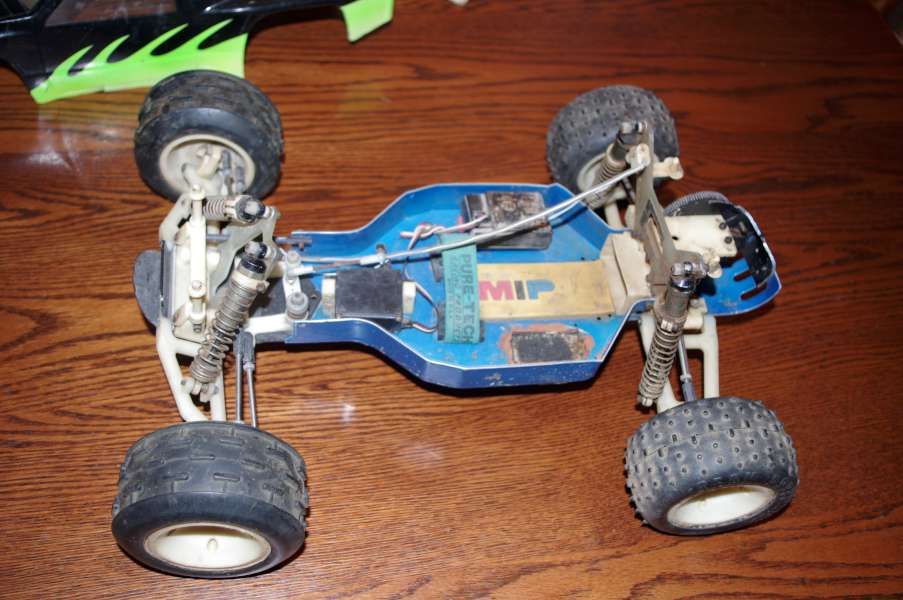 The front bumper is broken, and unfortunately, one of the nose brace tubes is missing, so I still don't have a good set to use on the 7001 truck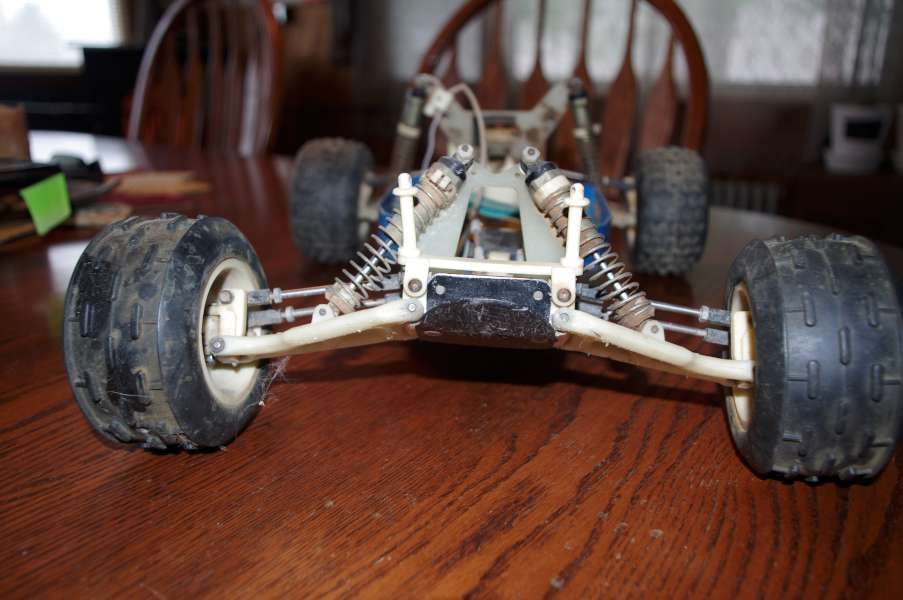 Nice Stealth trans and trans brace to use on the 7001 (until I get a correct trans brace). Rear RPM arms are in nice shape: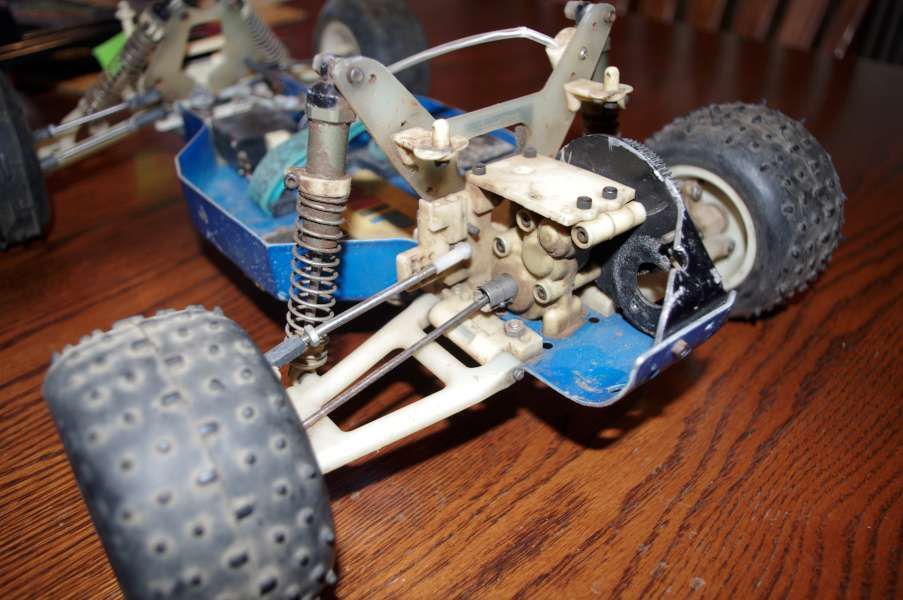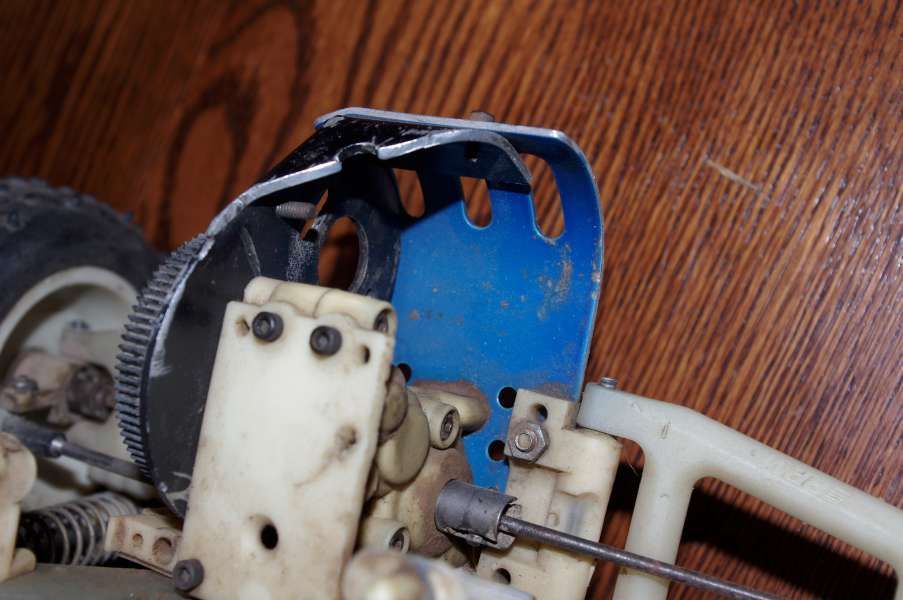 Chassis is real nice underneath except at the back. There's a clear chassis protector covering most of it. Front RPM arms are in good shape: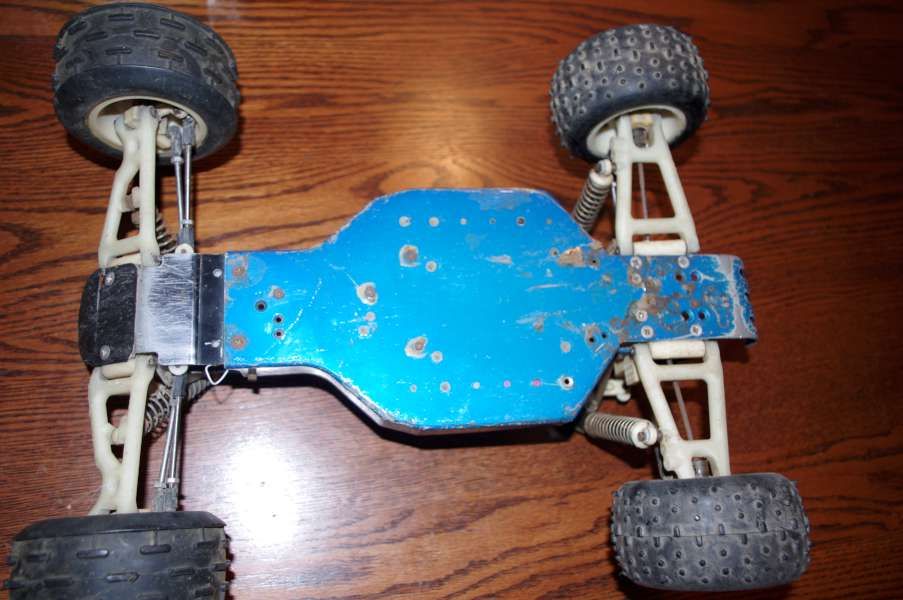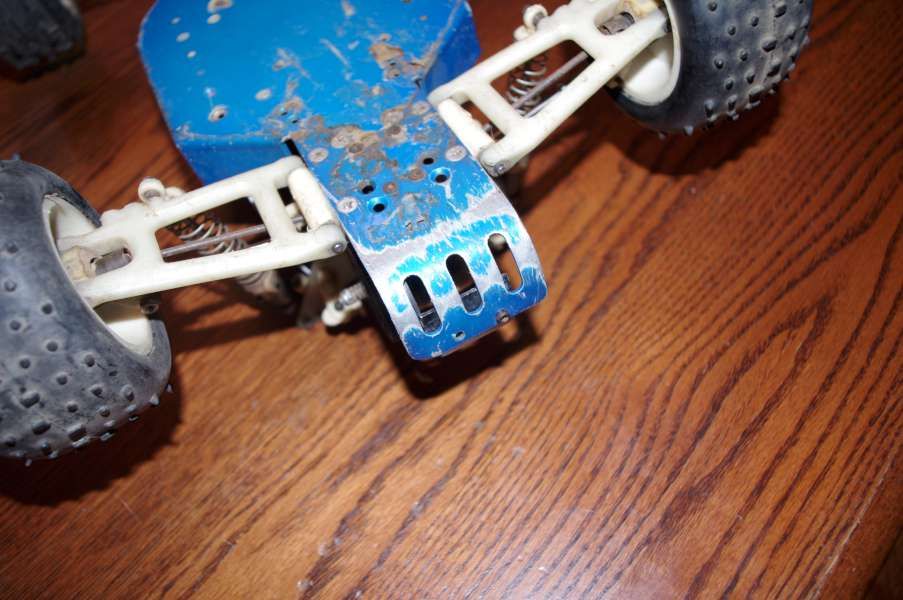 For this truck, I'll go with modern brushless power, maybe some carbon fiber, new wheels & tires, and who knows what else.
And finally, on to my favorite, the T2. This truck is super clean, and I'm very excited to upgrade it.
I'm going to move this battery tray over to the 7001 until I can find a nicer one: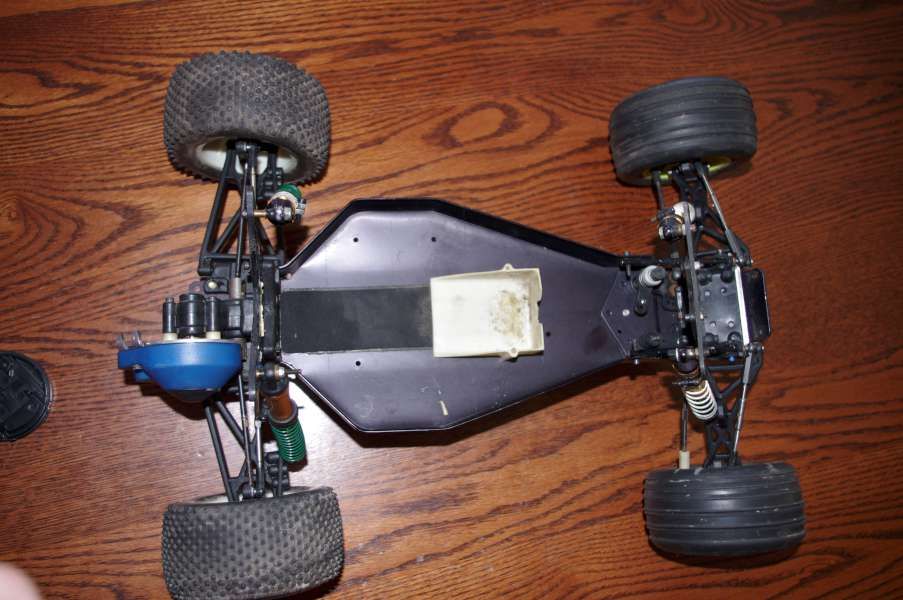 The underside is virtually perfect. I don't think this truck ever saw dirt: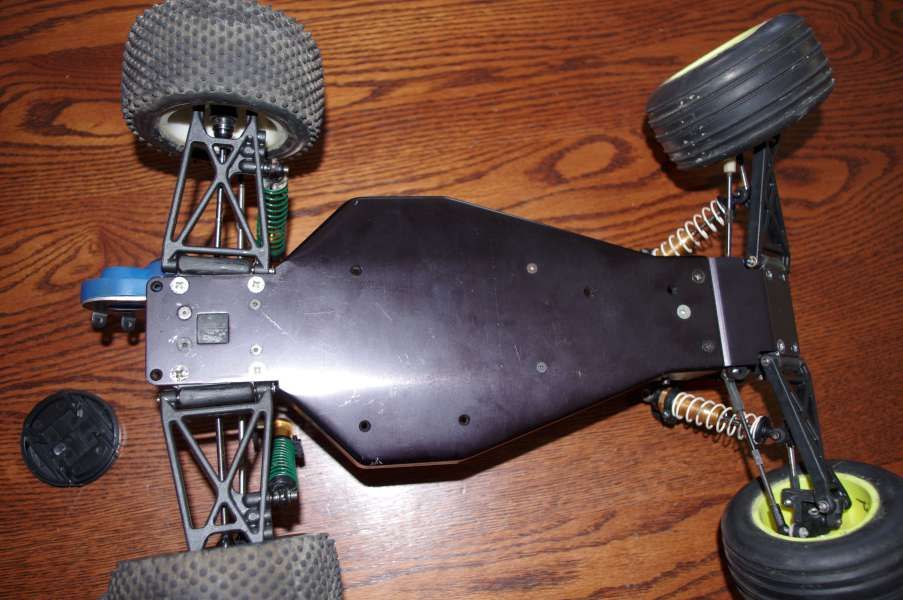 Everything is in nice shape, including the Proline Edge tires: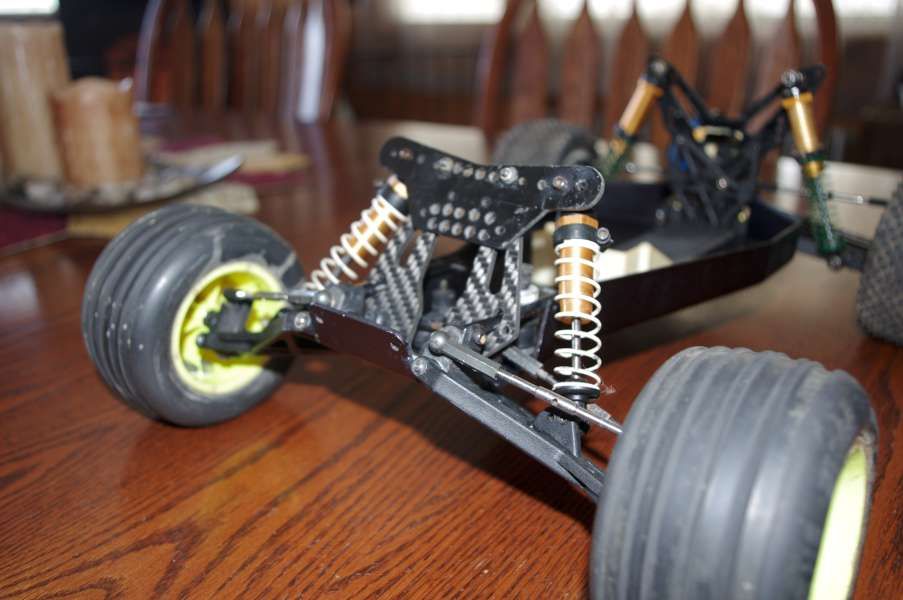 Carbon fiber front shock tower, and an upper plate that makes the shocks stand more vertical. I've never seen one of these before, and that surprises me, because everything I've read seems to indicate that the more vertical you can get your shocks, the better they work. I'm not sure if I'll keep this or not, but that'll be determined on by how good the truck handles, and whether I can fit a body over it: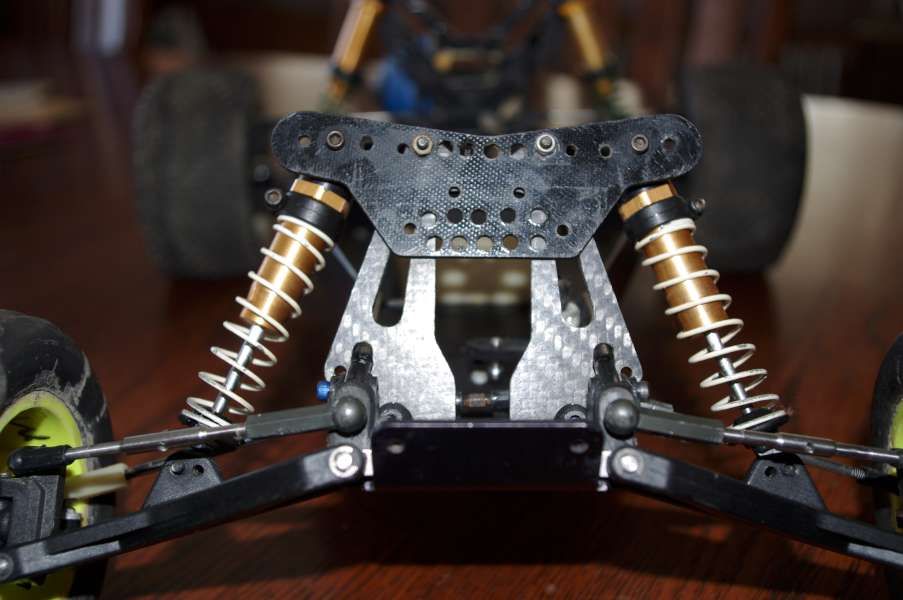 Transmission is clean, as are the axles, and turnbuckles, and pretty much everything else on the truck: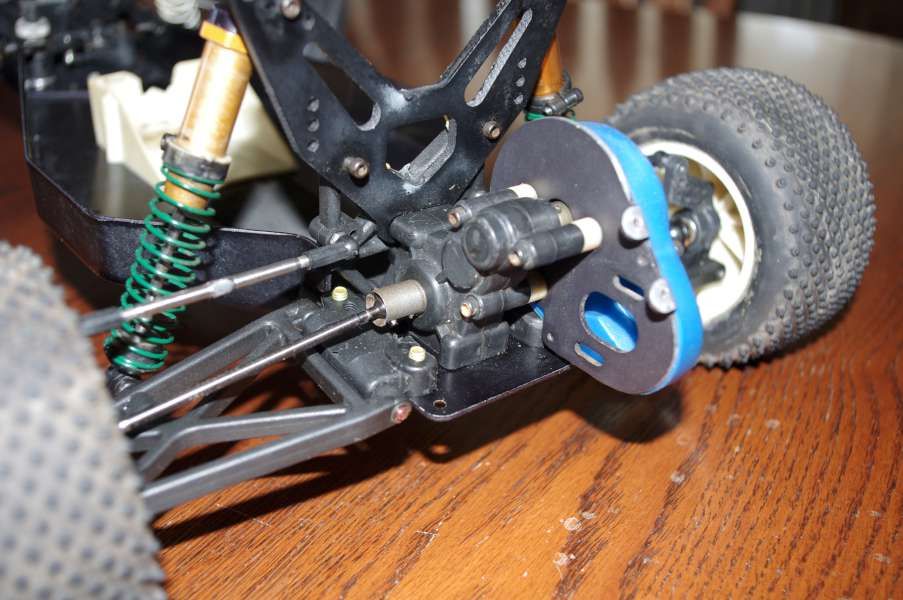 RPM slipper cover, though to be honest, I really don't like the blue. Not sure what I'll do with this yet: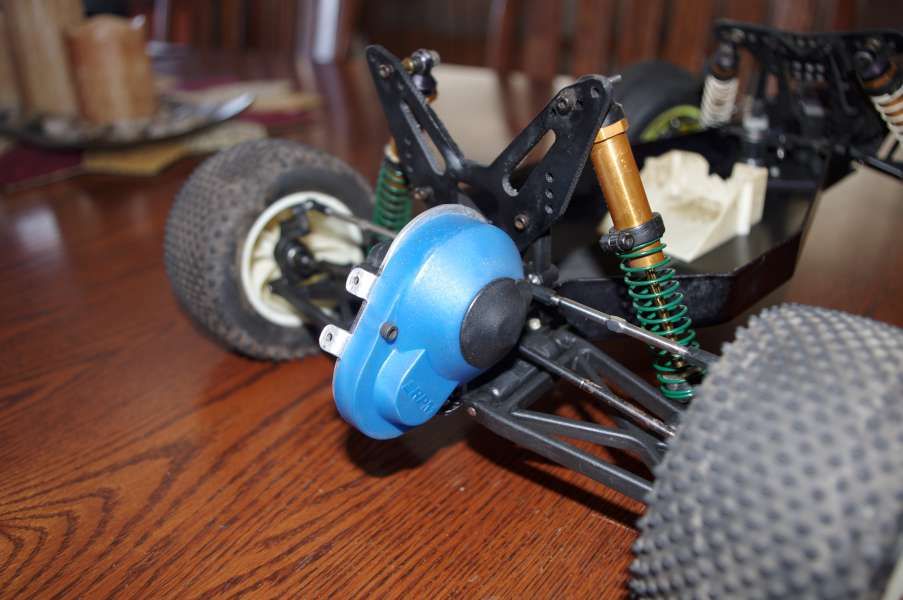 The one bummer with this truck is that it didn't include the rear motor plate, and unfortunately, those seem to be kind of expensive.
Plans for this truck include a carbon fiber rear shock tower, carbon fiber trans brace, a new T2 body, new wheels, and who knows what else.
So I guess thiis means I'm officially addicted?