Approved Member
Posts: 7306
Joined: Thu Jul 29, 2010 10:20 pm
Location: Alberta, Canada
Has thanked: 15 times
Been thanked: 246 times
Which essentially accomplishes what I just suggested.

---
Approved Member
Posts: 1494
Joined: Tue Feb 01, 2011 8:24 pm
Location: Netherlands
Has thanked: 20 times
Been thanked: 36 times
Germano

wrote:

↑

Tue Aug 11, 2020 4:00 pm

Mr. ED

wrote:

↑

Tue Aug 11, 2020 5:50 am

That would be right if the steering links were roughly the same length as the upper links and if he were fighting toe out. But he is figthing toe in: because his steering links are longer than the upper link on the left (and much longer on the right). He'll need a dual becrank set up to get this correct.

The space to work with is terribly cramped though ... study the recent wave of fwd touring cars to see if you can steal an idea is the best thing to do

I think the FWD version of that chassis was poorly designed. Maybe, that's the reason there isn't the manual on kyosho site. I thinhk they know about that issue and decided to eliminate that fwd chassis from his history.
The Kyosho site is missing tons of manuals, so there probably isn't any conspiracy there...
EvolutionRevolution has been working on the same chassis. So, he'll have the issue.
But I haven't replaced the various suspension parts with ones from another car. The parts you used change the attachment points for both the upper camber link on the hub (higher) and the attachment of the steering link on the upright (higher, plus missing the forward offset provided by the special ball cups used at the upright side - see the
picture of the links in this post
). The uprights also have different dimensions. Those changes change the steering geometry considerably.
I just tried it with the original geometry, and it does not have the issue you found (I even get a bit of toe-out at maximum steering). The reviews about the chassis in old RC magazines also do not mention this problem.
The servo saver to use is quite long, with the links attaching to it close to the servo saver centerline and about halfway the flat part.
Perhaps an interesting point, but using the spare chassis I have I also tested what would happen if I were to add Lazer or Optima suspension arms to the chassis to get a pseudo-Maxxum. It was impossible to get any working suspension geometry where the steering worked properly.
---
ok.
I'll mount with all standard parts in one of the sides at the front to check that.
---
Similar Topics

Replies
Views

Last post
Users browsing this forum: CommonCrawl [Bot],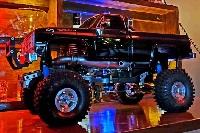 coxbros1 and 1 guest