The PB Mini Mustang was quite the performer back in the mid to late 80's here in Australia and around the world. With a single belt driven 4WD chassis this car was legendary at my old club. I feel the car was revolutionary for its time with cool accessories like a 2 speed transmission, quick change stick pack battery system, mid motor placement and ofcourse the belt drive transmission were all things to consider when choosing such a racer. Darryn (retro r/c) on this forum can speak volumes on this chassis as he raced and was also sponsored by PB way back when. Alex (Incredible_serious) too is a fan of this car with it being his first race car from what I hear.
Im sure there are many others who have memories of this classic and if you feel like you'd wish to tell us about your experience with this or indeed any of the PB 1/10th scale off roaders please chime in.
Ive been cosidering one of these cars over the past couple of years and it hasnt been until now that I finaly have myself a project underway. After passing up a nice (and complete) Mini Mustang from Alex over a year ago I guess it was only right that I ended up with a car that would need a whole lot of work- LOL! Im not sure why Alex painted the spine and wheels of this car in creame but I would guess that after he finished painting the house he had a little paint left over and felt like being creative.....



( just kidding Alex-

)
Anyway here's the car I have been working on-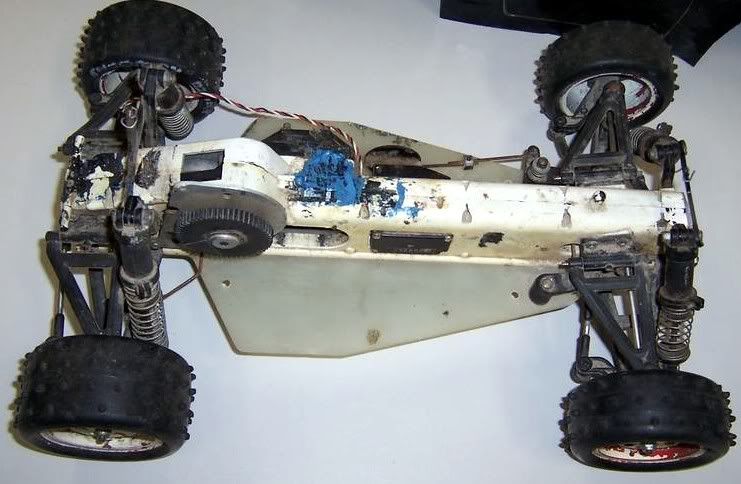 Here are the rims after a long session in the acetone bath. The chassis is currently in the bath now.
...and the car I passed up- DOH! Alex sold this gem to my good buddy James for $150AUD....NUTS!