I'm looking for information on shock mounting bushing for gold pan rc10's.
It looks like at one point a common style nylon shoulder(plastic bush/step washer) washer was replaced with a custom molded part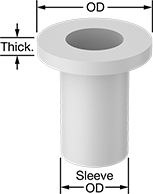 Were these types of bushing actually used? The i/d should be .115" for a #4 screw. Does anyone know the overall length and OD and thickness of the flange.